Tools for Sale in Baldwin Park
At Azusa Pawn near Baldwin Park, we buy and sell the tools you need, every day of the week. Whether you're looking for a Skil saw, a DeWalt drill, or a Black & Decker blower, shop our selection before paying too much somewhere else.
You can expect to pay 30-50% less for tools than you'll pay at a traditional hardware or big box store. Many of our power tools are barely used, and some of our handheld tools have never been used. We carry all the top manufacturers of tools in our showroom in Baldwin Park. On any given day, you'll find tools from brand-names such as:
Black & Decker
Bosch
Channellock
Craftsman
Dalluge
DeWalt
Festool
Greenlee
Hilti
Hitachi
Irwin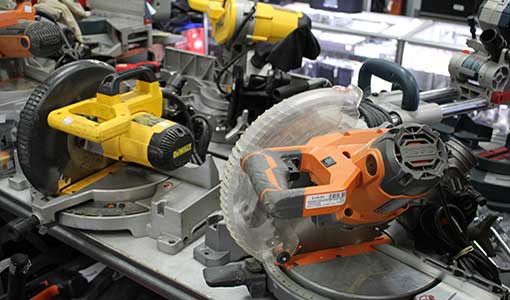 Why Types of Tools are For Sale at Azusa Pawn?
At Azusa Pawn, we like to keep a wide inventory of items in stock for our customers. That's why we buy tools every day. But we also sell tools every day, so what you find on Monday may not be the same items we have in stock on Wednesday. A partial, but not exhaustive list of the types of hand tools and power tools we carry includes: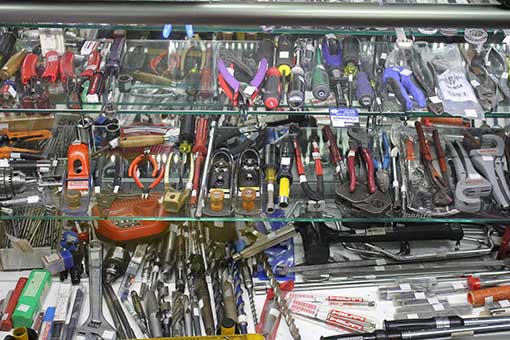 Air Tools
Automotive Tools
Carpet Tools
Cement Tools
Combination Sets
Drills & Drivers
Hand Tools
Industrial Tools
Machinists
Meters, Testers & Probes
Nailers and Staplers
Planers, Shapers, and Joiners
Routers
Sanders, Grinders, Polishers
Saws
Toolboxes
Welders & Cutters
Battery & Chargers
Lawn & Garden Tools
Scales
And More
Reasons to Buy Tools from a Pawn Shop
Professionals and DIYers know that you can get the best deals on tools at pawn shops. The tools in our inventory are often only used for a single project, before the owner decides to sell them to us, or exchange them for a different tool. With prices significantly less than you'll pay at a traditional retailer, or online, there's just no reason to pay full price for a tool you may only use for a single or a couple of projects.
Near Baldwin Park, you'll find that Azusa Pawn has the best selection of used tools for sale in the SGV. You can also rest assured knowing that we only buy and sell power tools that work. We rarely accept items with significant wear and tear, or rust. We encourage all shoppers to turn on the tools in our shop to see for yourself that they work.
Visit Azusa Pawn for the Best Deals on Tools in Baldwin Park
If you're looking for a new, specific tool, or you just want to find an excellent deal on hand tools or power tools, visit Azusa Pawn today. In addition to tools, we have a vast selection of other items for home projects, and items such as gold, silver, designer watches, handbags, and more that make great gifts.
Azusa pawn is located on Gladstone Street in Azusa. We are open seven days a week until 6:00pm. You may shop our online store 24/7.
Contact Info
Azusa Mega Pawn

1028 West Gladstone Street, Azusa, California 91702
Working Hours
OPEN SIX DAYS A WEEK
MON - SAT 9:00AM - 6:00PM